RPA in insurance: Customer service is essential to the success of all insurance companies.  Good customer service has a direct impact on customer loyalty, acquisition and retention, and the company's compliance with a wide variety of regulatory provisions that vary from state to state.
Many different industries – such as retail and the financial sector – have optimized their use of online channels to transform the customer experience through faster turnaround times, preference for the availability of digital/online channels, and consistency across channels.  To maintain a competitive edge in the marketplace, insurers must add efficiency to their customer experience.
Despite this, insurance companies have been slow to adapt, often to avoid a complete overhaul of outdated legacy systems and processes, leading to unsatisfactory customer experiences. As many as 45% of Insurance CIOs have "identified heavy, disconnected and duplicative legacy systems as a key inhibitor to digital transformation" (Celent 2018).
Inefficiency Breeds a Poor Customer Experience
Take call centers, for example.  Call centers deal with large transaction volumes, multiple data input formats, and multiple legacy systems to accomplish a task. This directs focus away from the client, increases call times, and increases turn-around times. Inefficiencies in customer care prevents insurance companies from achieving growth and process optimization.
Robotic Process Automation (RPA) has the potential to significantly enhance the workflow by simplifying and streamlining multiple channels in the customer service request process. RPA is simply a computer software application that allows you to automate tasks and processes by replicating the steps that a human takes to complete them.
What RPA Can Do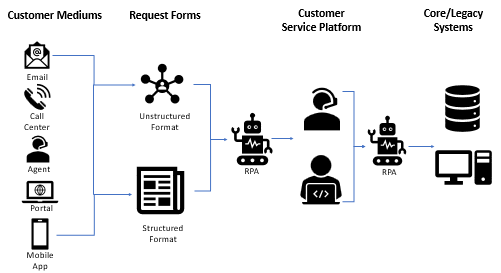 RPA involves developing software robots (or digital workers) that integrate within your existing software application systems to automate tasks within a business, such as logging into web applications, filling in forms, or extracting data from documents. Digital workers utilize the user interface of the machine they are programmed to run on to manipulate applications the same way an employee does.
Providing digital labor in customer service processes gives time, cost, and quality benefits for both the employee and the client. A software robot can perform multiple functions, such as copy and paste as well as gather and enter data from/into multiple systems. Applicable examples for call centers within insurance companies include the following:
All-round view of available data to customer support staff
Data entry into key systems
Obtain policyholder information from multiple sources
Data gathering/compilation from multiple platforms
Insurance period verification
Flag mismatch/errors in data
Create follow-up alerts
Provide quick approvals
Furthermore, digital workers can perform these functions faster and can operate on a 24/7 availability. This gives customer service centers the opportunity to significantly reduce their turnaround and processing times. The utilization of digital labor in repetitive processes – which are prone to human error – lead to greater consistency and accuracy in processing customer service requests.
Reap the Rewards
With higher quality customer service experiences, an increase in customer and employee satisfaction follow.  Lastly, leveraging digital workers reduces processing and employee training costs, allowing for growth, without adding to staff – and more funding toward future transformation. 
Once implemented, the technology can even be used to quantify the benefits of your RPA initiatives. Various RPA software platforms provide dashboards that display real-time RPA analytics for both digital labor and business process insights. Third-party tools such as Power Bi, Tableau, Elastisearch, and Kibana can also be integrated with your platform to view observable metrics such as robot performance, ROI, and KPIs.
Utilizing RPA into your customer service experience not only insulates customers from back-office processes, but aids in a company's evolution toward process optimization. One insurance company who implemented RPA initiatives in their call center saw a 58% reduction in manual effort and a 70% improvement in processing time (Infosys 2018). RPA has the capability to automate routine tasks to simplify the employee experience and improve the customer experience, which in turn leads to greater customer loyalty and retention. 
To learn more about RPA implementation, visit us at www.integratz.com, schedule a demo here, or check out our positive experiences here!
For an example of RPA in the workplace, look here.