Webinar: How to Make the most out of an RPA POC
"A goal without a plan is just a wish." – Antoine de Saint Exupéry
Few words ring truer when it comes to preparing for a Proof of Concept (POC) – even more so if the intention is to set the foundation for a pilot to later inform the production runs that follow. Simply, the first step on the right path in a POC is defining a success criterion. This can then be later measured against to determine whether the POC was successful or a failure. The concepts in this article should help clear up some misconceptions about POCs as well as provide a starting point to begin planning for one's own.
Difference between a POC & A Pilot
In short, the purpose of a POC is to demonstrate that a technology is viable both financially and operationally for an organization. However, a POC differs from a pilot both in terms of size and scope. A POC intends to validate and improve the performance of a solution, while a pilot is more of a 'dress rehearsal' that tests the performance of the solution within a specific organization's systems. There are more considerations to be had when approaching a POC than one might initially think. Ideally, it should focus on a very small piece of the overall solution, making it easy to evaluate results and minimize implementation challenges. But how is this measured? With analytics.
Analytics & Organizational Impact
One effective and prudent approach involves breaking down the goals of the POC into categories, and then devising the metrics to track based on said goals. For example: In automation solutions, particularly Robotic Process Automation (RPA), three possible categories might be: Financial Impact, Customer Impact, and Enterprise Impact. The categories are grouped this way due to the nature of RPA and its impact on business processes and organizational change.
For financial impact, one measurement that proves useful is the average cost to perform the process. This is significant in that if you know how much it costs to perform the process manually, it will be much easier to understand the value the automation is providing. For customer impact, an example metric to track is the average time to complete the process. While not always the easiest data to capture, it is essential to understand the manual processing time so that the difference measured in the POC can be easily tracked and represented. On enterprise impact, some example figures might be the % Accuracy of the bot or its % Success Rate. This is useful for determining that the automation solution is working as intended and providing the expected organizational value.
Knowing the answers to these questions before diving head-first into a POC will help to accurately judge the efficacy of the solution; and may even prevent additional time and resources spent on implementing a software that ultimately isn't the right fit.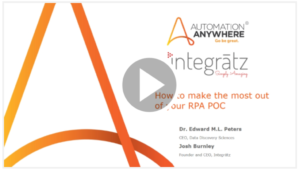 Join us for our webinar Tuesday, June 25, 2019 at 10am PT / 12 CT: How to Make the Most of Your RPA POC, presented by Integrātz and featuring a lecture from data & analytics ace Dr. Edward M.L. Peters. Grab your spot now here: https://www.brighttalk.com/webcast/17396/360776?utm_source=integratz